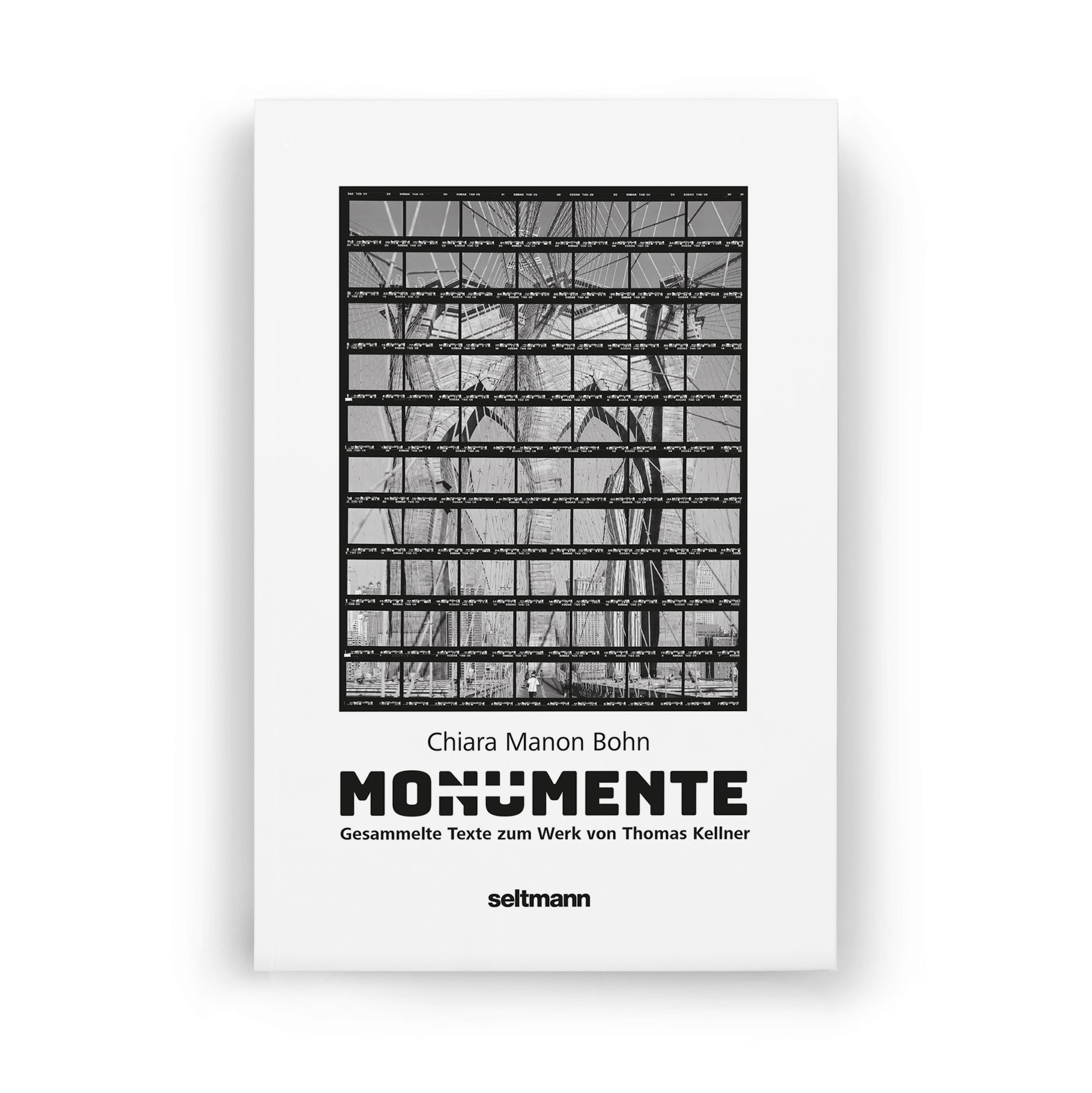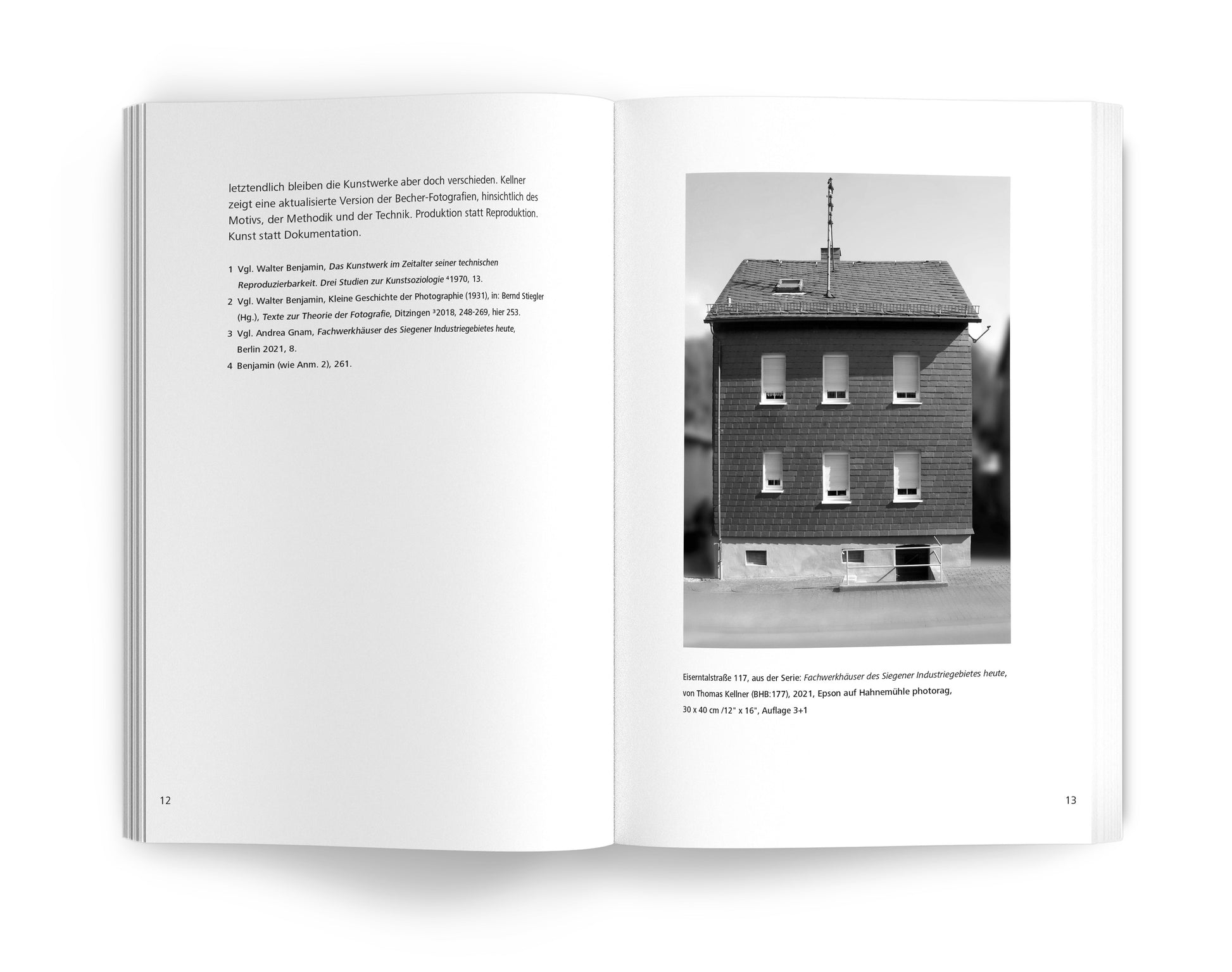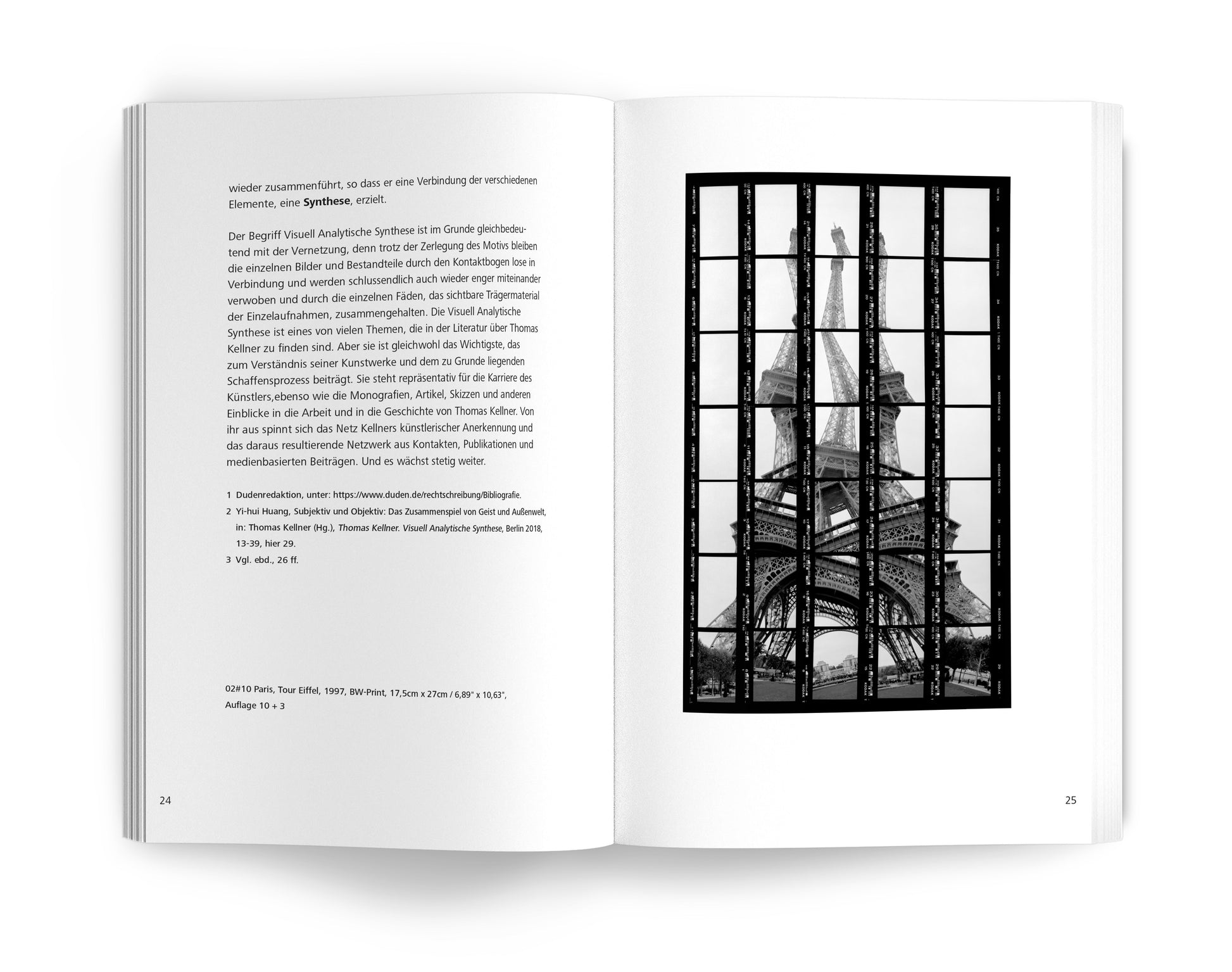 Softcover, Paperback
Format: 15,2 cm x 22,8 cm
Seitenanzahl: 40 Seiten, 5 Abbildungen Seiten
selling price
19,90 €
Regular price
VAT included.
Auf Lager! Schon in 1–3 Werktagen bei dir.
The young art historian Chiara Manon Bohn has been assisting the Siegen photo artist Thomas Kellner in his work for four years. She supports him in everyday studio life, in the conception of projects and exhibitions and accompanies them with essays and speeches on openings.
In this volume, her perspective on the work of Thomas Kellner is processed in five essays. She writes about the artist's latest project, the Siegen half-timbered houses, previously photographed by Bernd and Hilla Becher, as well as Kellner's well-known work with contact sheets. In addition to texts on Genius Loci, Tango Metropolis and Brasília, there is also an essay worth reading about the underlying methodology and the exhibition Visual Analytical Synthesis, defined and named by Irina Chmyreva and revisited by Chiara Manon Bohn.
This is the fifth volume of texts on the work of Thomas Kellner, which for the first time provides a comprehensive insight into the artist's oeuvre, the individual work series. So far published: Idealbilder, Kontakt, All shook up and Visual Analytical Synthesis.
Sprache: Deutsch
Herausgeber: Oliver Seltmann
Autor: Chiara Manon Bohn
Fotografie: Thomas Kellner
Gestaltung: Peter Büdenbender
Texte: Andrea Gnam / Michael Arns / Ernst Uhing
Verarbeitung: Softcover, Paperback
Seiten: 40 Seiten, 5 Abbildungen
Maße: 15,2 cm x 22,8 cm
ISBN: 978-3-942831-21-5
Erscheinungsdatum: 23. Mai 2022

Germany: €3.50
We deliver within Germany free of charge from €19!

Austria, Belgium, the Netherlands, Luxembourg and Denmark: €5.00
Europe, Switzerland, USA, Canada: €7.50
Worldwide shipping: €15.00
All packages are handed over to DHL for shipping. Existing goods will be invoiced immediately and delivered within 2 - 4 working days. Please note that these delivery times are average information from our delivery partners and we cannot guarantee them. Backorders will be billed and shipped as soon as they are in stock. You will receive email notifications of the delivery status of your order once it has shipped.

EU and international orders usually arrive within 7-14 days.
Monumente
selling price
19,90 €
Regular price