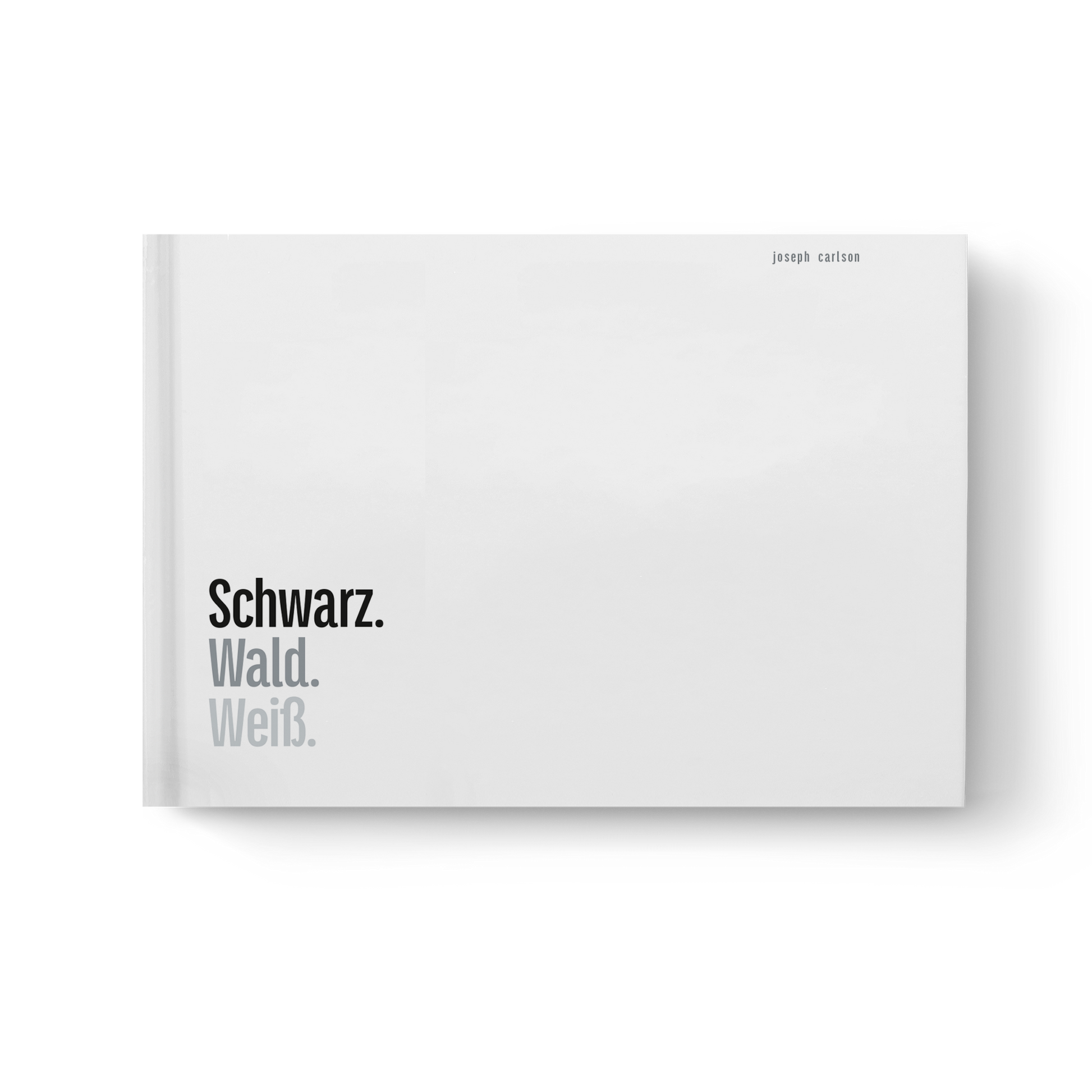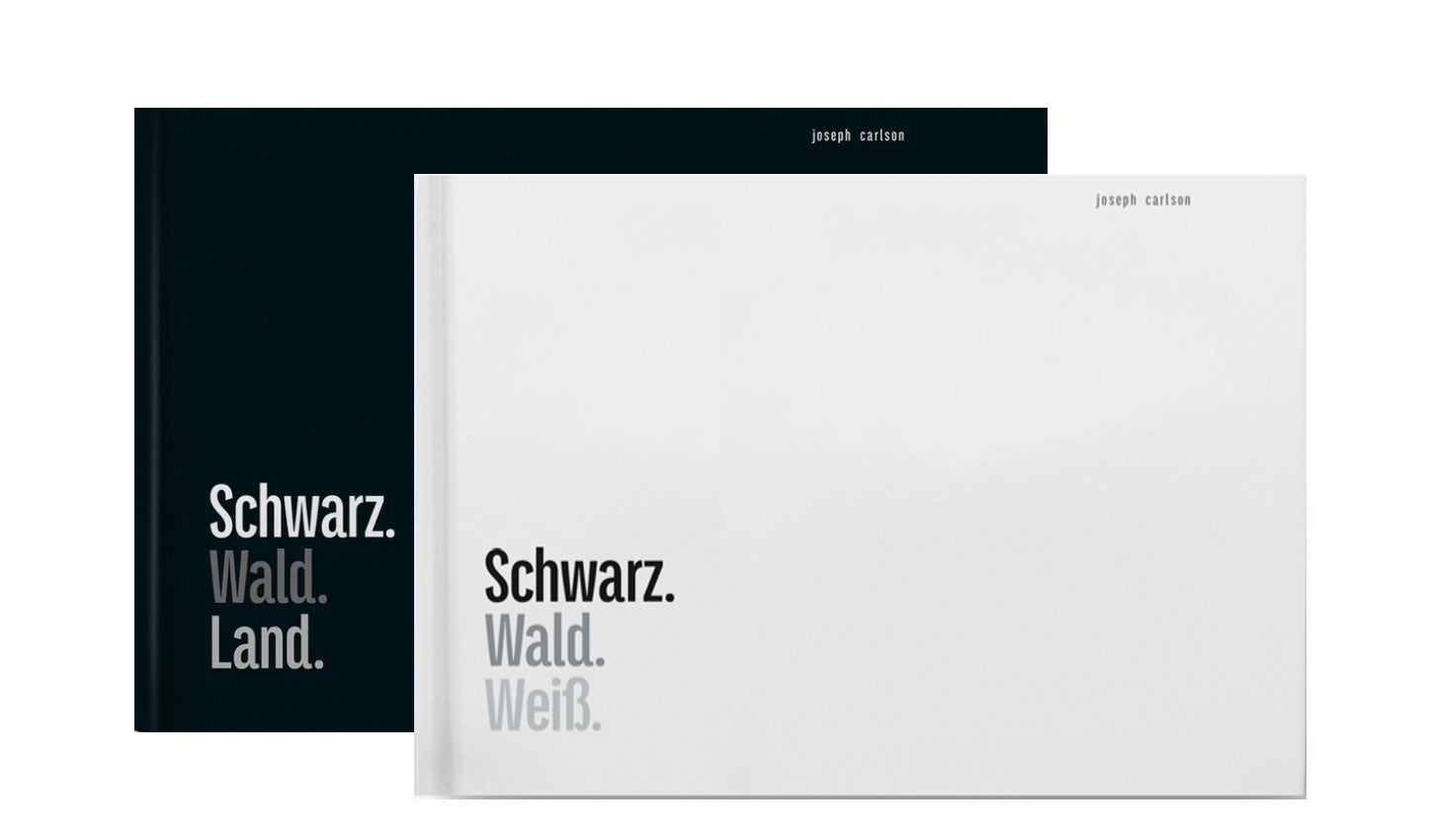 Hardcover
Format: 32,5 cm x 22,6 cm
Seitenanzahl: 116 Seiten
selling price
48,00 €
Regular price
VAT included.
Auf Lager! Schon in 1–3 Werktagen bei dir.
Black Forest and white – the artist Joseph Carlson shows us in his new book Black.Forest.White how naturally this goes together and makes sense. He has tracked down the white of this mountain region with his camera and gives us insights into the essence of a phenomenon that is more than just colour. In the many years that the artist has been living in the Black Forest, during which he drives through the solitude of the forest on his daily routes, he has come close to white, or white to him.
That didn't let him and his camera rest. So he follows the photographic cycle "Schwarz.Wald.Land.", the hymn to the color black published in 2017, with the necessary equivalent, the cycle "Schwarz.Wald.Weiß."
Joseph Carlson is an artist who paints with the camera. With the color white he finds a way to explore the phenomenon of the Black Forest and, opening this book, offers us a continuation of the previous one. He lets us experience this landscape even more contemplatively and meditatively.

Let's follow Joseph Carlson into the forest that constantly inspires him: the "White Forest".
Sprache: Deutsch
Herausgeber: Joseph Carlson
Autor: Joseph Carlson
Fotografie: Joseph Carlson
Verarbeitung: Hardcover
Seiten: 116
Maße: 32,5 cm x 22,6 cm
ISBN: 978-3-949070-31-0
Erscheinungsdatum: November 2022

Wir liefern innerhalb Deutschlands ab 19 € versandkostenfrei!

Deutschland: 3,50 € (unter 19€)
Österreich, Belgien, Niederlande, Luxemburg und Dänemark: 5,00 €
Europa, Schweiz, USA, Kanada: 7,50 €
Weltweiter Versand: 15,00 €
Alle Pakete werden für den Versand an DHL übergeben. Vorhandene Ware wird umgehend in Rechnung gestellt und ist innerhalb von 2–3 Werktagen bei dir zu Hause.

Bitte beachten Sie, dass es sich bei diesen Lieferzeiten um durchschnittliche Angaben unserer Lieferpartner handelt und wir diese daher nicht garantieren können. Lieferrückstände werden in Rechnung gestellt und ausgeliefert, sobald sie vorrätig sind. Sie erhalten per E-Mail Benachrichtigungen über den Lieferstatus Ihrer Bestellung, sobald diese verschickt wurde.

Bestellungen, die in die EU und ins Ausland versendet werden treffen in der Regel innerhalb von 7–14 Tagen ein.
Mit Design-Preisen ausgezeichnet!